New Mexico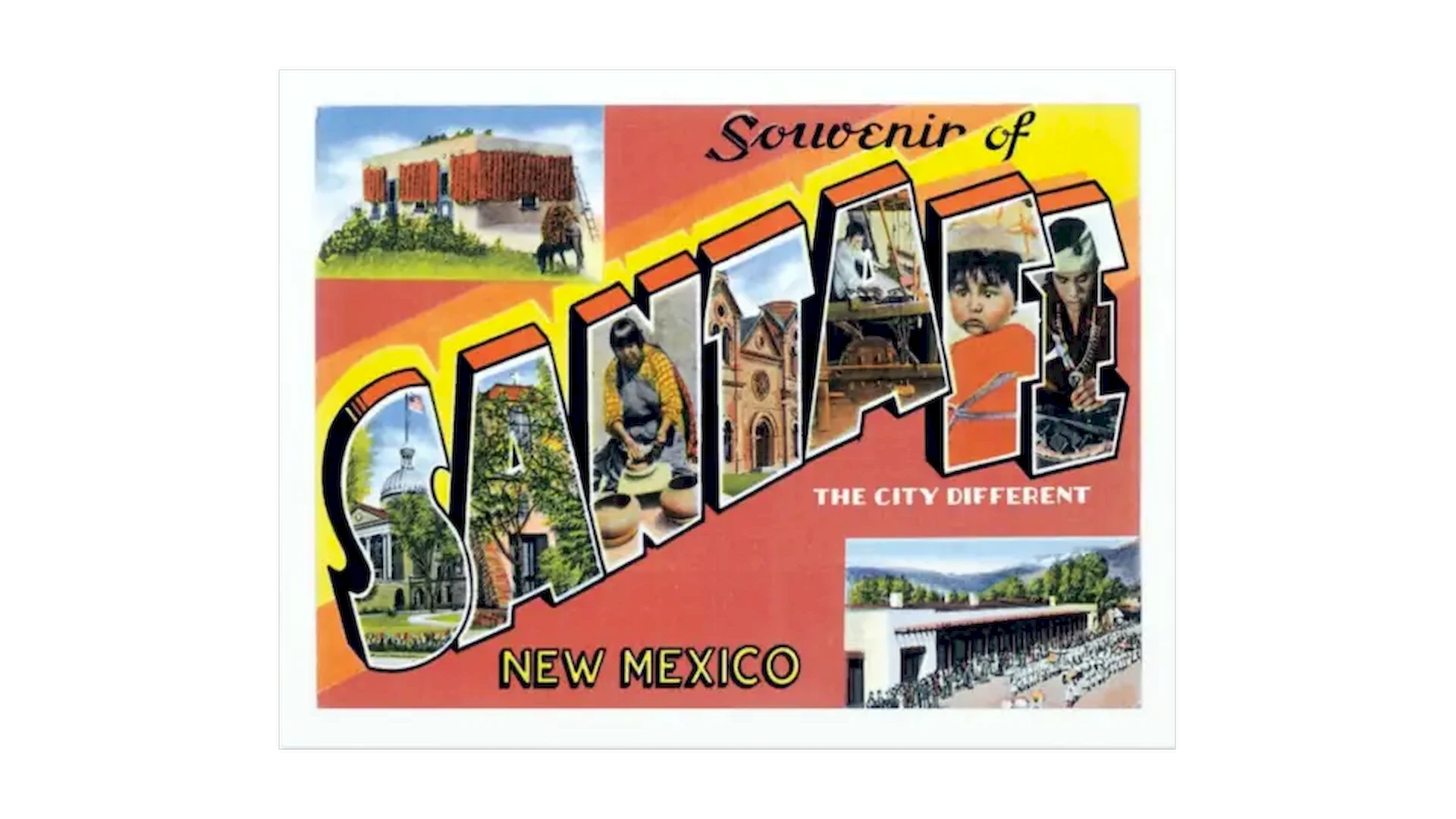 Overview
New Mexico
I moved to Santa Fe, New Mexico, in 1979. In Santa Fe, I created "Play me a Rainbow," six florescent tubes each one of the six colors in a rainbow, connected to a six key, keyboard. The fluorescents float in space hung by mono-filament line and are played with the keyboard, which illuminates the selected color with every keystroke.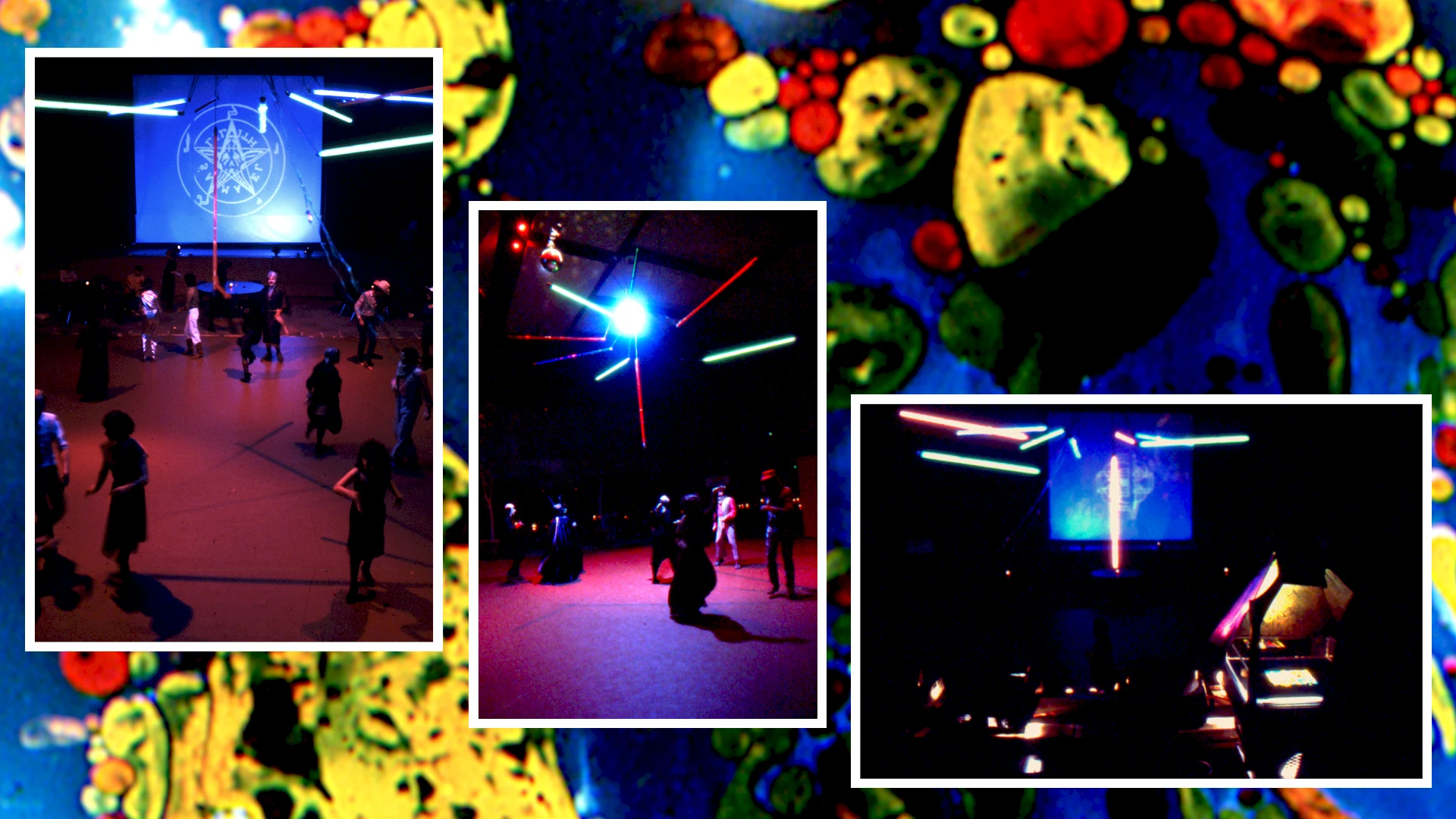 Being commercial sign fluorescents, they came on instantly (like a strobe) with no glow or flicker, instantly on and instantly off. I also created an outline image of a Diamondback rattlesnake, in fire, on an eighteen-foot long by a foot and a half high wooden frame mounted at average eye height on 8' high 2"x4" uprights.
The outline of the Diamondback rattlesnake was delineated by double pointed finishing nails stuck in the wooden frame. Small (large soda straw diameter), 3" long green and gold burning phosphorous "lances" (think flares) which are then fused together so that the fuse contacts the end of each lance. When the lit fuse reaches the "lances," they ignite. The fuse burns at forty-four yards per second, faster than the eye can follow it.
Dreidel
I also created a flaming dreidel for a friend at Hanukah. I always fuse my "set pieces" in a random fashion; this way, the spectator has no idea of the subject of the "set-piece." When the burning image is revealed, it is always a nice surprise for the spectators.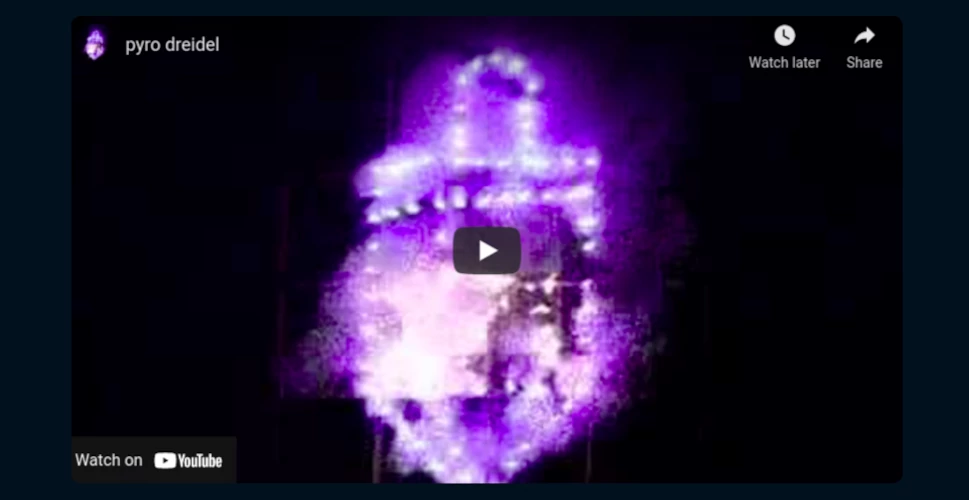 These images are a lot like "connect the dots," and in this case, your eyes connect the dots in your mind. I also "painted in the sky" with an aerial fireworks show that evening.
More than we bargained for in Belen
In Belen, New Mexico, my son and I were setting up fireworks for a July 4th celebration in a vacant lot "downtown" Belen. My son was digging the trench for the mortars when he called me over. He had uncovered a skeleton. Now we were a crime scene, and we had just started our set up.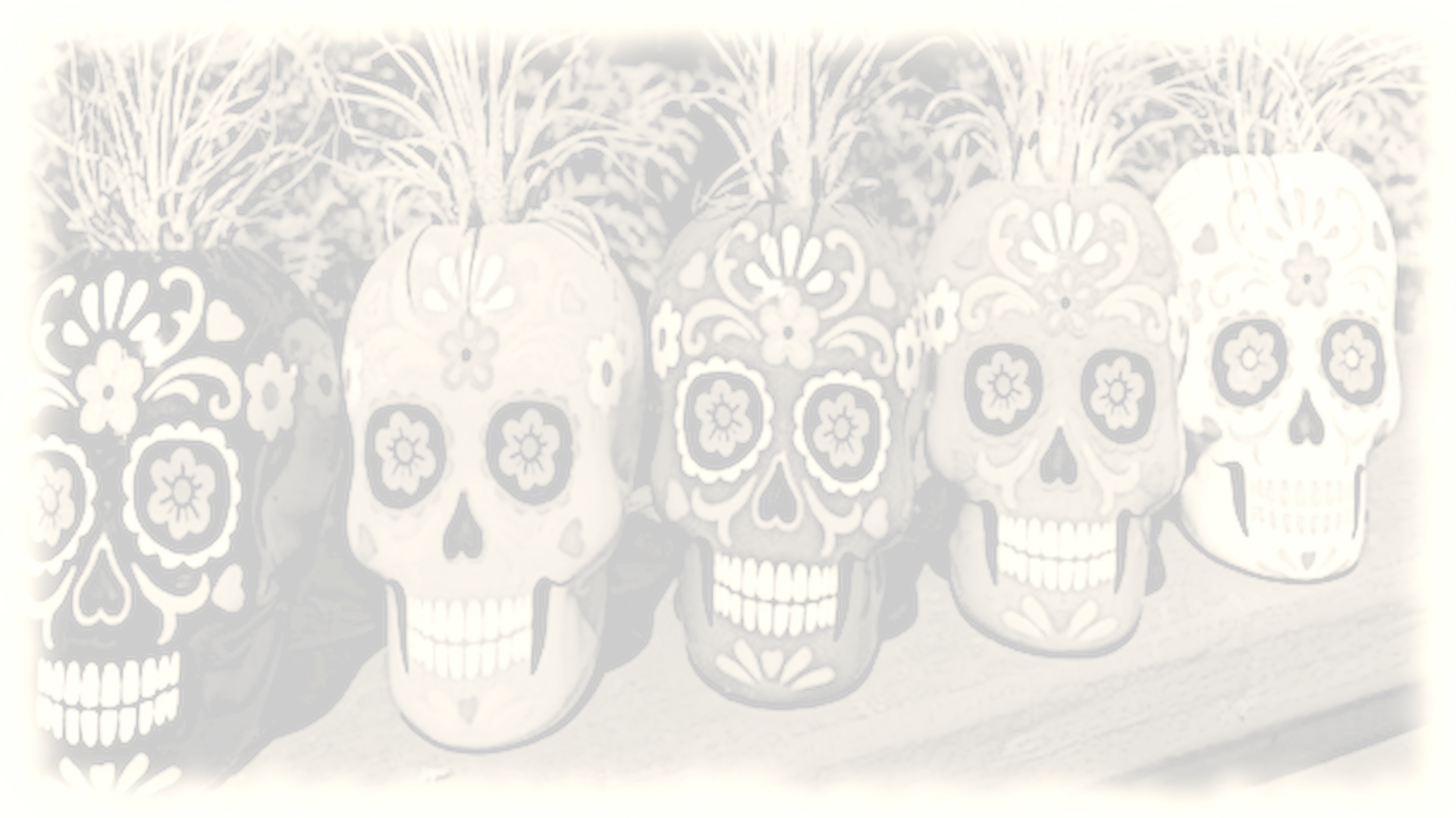 We start early in the morning and work right on through the day into the evening, some times close to the start of the show. By uncovering the skeleton, we had to notify the police. When they arrived and established the "crime scene," we were told to stand down and move away from the trench. After about an hour of research, they determined that the empty lot was at one time a cemetery, the church was across the street. We were then allowed to continue; we reburied the skeleton and then dug a new trench, and this time no skeletons.
Color Therapy
In Santa Fe, New Mexico, I met an elderly gentleman named Dr. J. Scherer, who practiced color therapy healing. Dr. Scherer's mother also practiced color therapy healing in the 1920s, as taught by Dinshah P. Ghadiali.
Dr. Scherer's mother used colored stained-glass paddles, which she held over the part of the body needing healing. She used sunlight as the light source and used the Dinshah identified colors needed for correcting the different ailments in the body. Dr. Scherer contacted me in Santa Fe in 1982 to put together theater lighting colored gels to match Dinshah's colors and a quartz illumination source, which would mimic the sunlight (5500 Kelvin).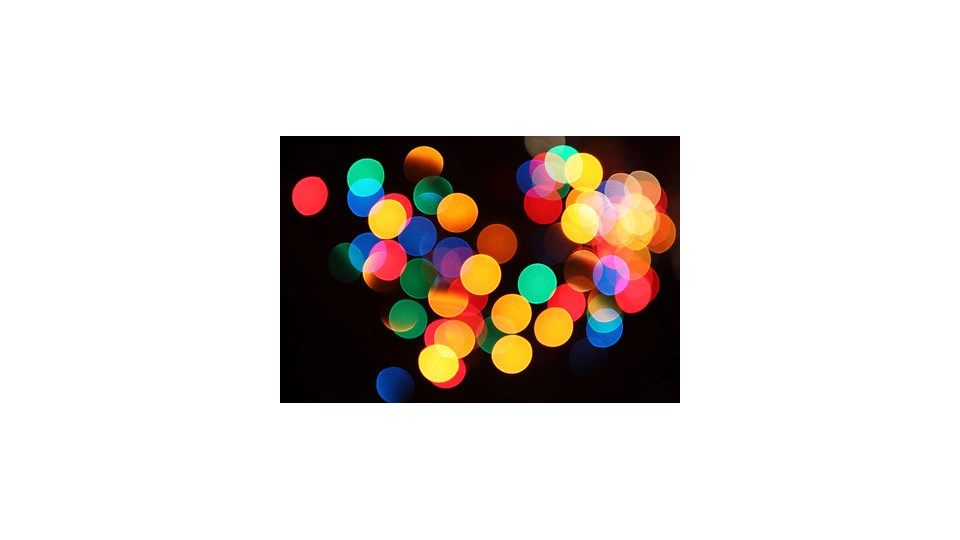 After much research, Dr. Scherer and I chose the appropriate colors of Roscolene gel. Some colors by themselves and some in combination achieve the finals results that best mimic Dinshah's colors. Today you can go online and google Dinshah and color therapy and find those colors and how to purchase them.
A wrench in the works
On February 5th, 2007, I was operated on for a benign 7cm tumor on the right frontal lobe of my brain.
I obviously survived the operation. Learning how to dress myself and walk again took more than a month of therapy. It took even longer before I could play a drum set and a couple of years to learn how to read drum music again. You realize at some point after your recovery that you are not the same person you were before the surgery.
The neurosurgeon told me that it might take a while for some memories and motor skills to come back, and some he said would never come back.
Santa Fe Concert Band
Frustrated at not being able to play a drum set as well as I did before the operation, I opted to put my set away.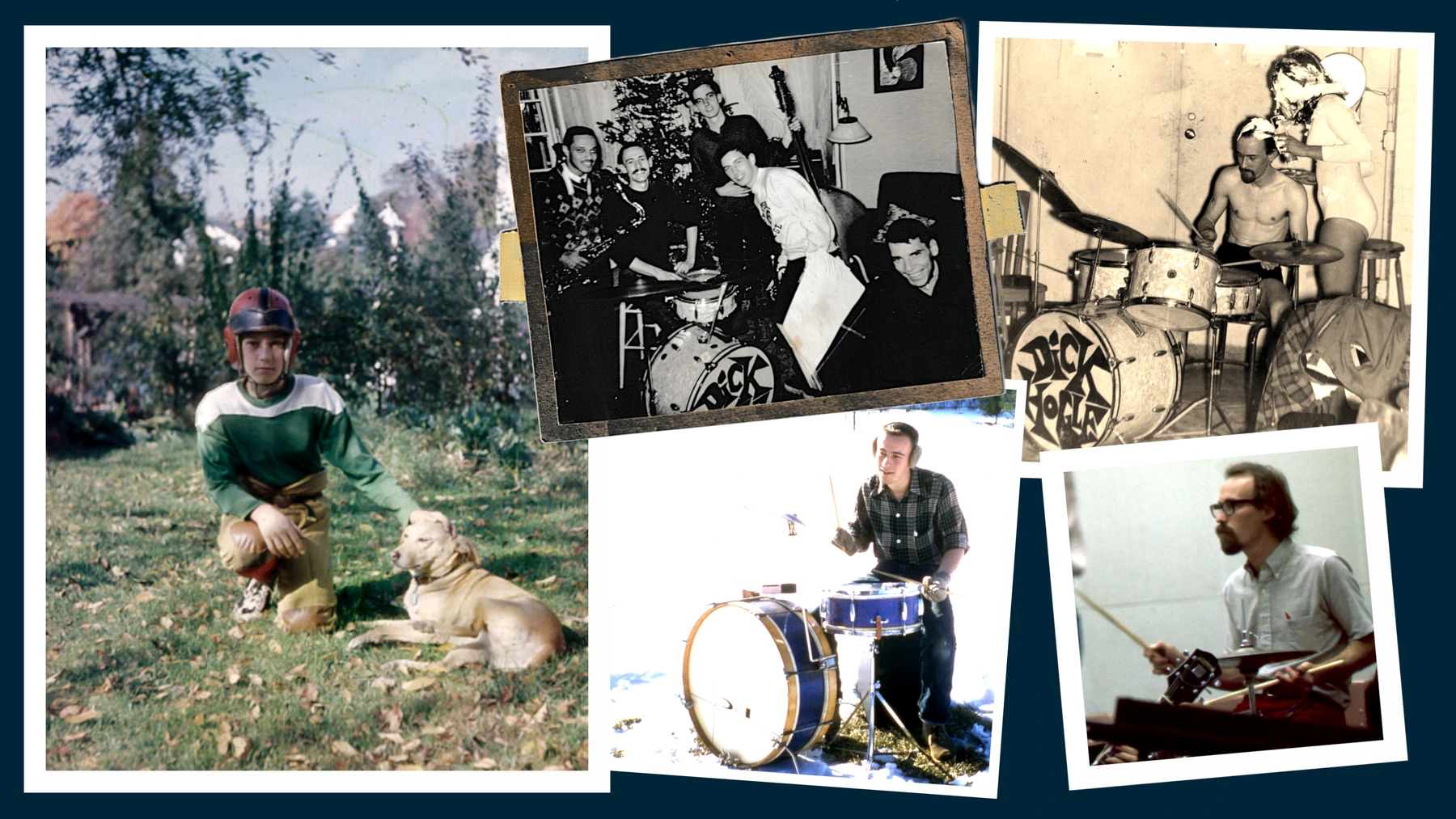 Music has always been a very large part of my creative drive, and rather than give music up totally, I joined the percussion section of the "Santa Fe Concert Band." One of the oldest concert bands in the United States. When this first band was formed in the territory of New Mexico, it was right after the civil war.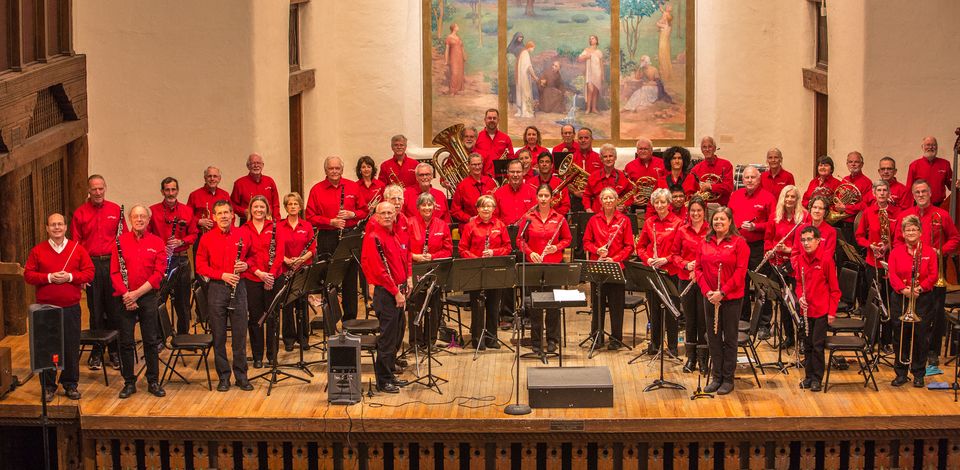 There was a civil war battle at Glorieta Pass in New Mexico. The Confederate forces lost that battle and went back to Texas. The Confederate bugler liked New Mexico better than Texas and returned to Santa Fe with two other Texas musicians and started the "Santa Fe Concert Band."
Going Political
I coordinated with the National Democratic Committee and local state Democratic chairman for all of the candidates' John Kerry's and John Edwards' public appearances in the state of NM, setting up staging, seating, light and sound equipment, and crowd control barriers in Santa Fe. John Kerry stayed in Santa Fe and rehearsed for one week for his debate in Phoenix, AZ, with George Bush. For this rehearsal, we built a replica of the Phoenix debate facility at the Inn of Loretto main ballroom in Santa Fe, so that Kerry would be able to practice for his debate and be comfortable with the surroundings in Phoenix.

There is a specific blue color called "Presidential" Blue. We needed to paint the parts of the set that were to be blue with this paint.
The only paint company which made this color was Behr paint, only sold at "Home Depot," and I had been informed that the founder of "Home Depot" was a staunch Republican who donated a million dollars to the party on election years. I decided I would not purchase the paint from "Home Depot," Being an "artist" I would mix the color myself.
I tried but I couldn't do it and in the end had to buy the paint from "Home Depot."
I got to hang out with and get to know John Kerry a little that week and I was very impressed with him.
When Presidential candidate Barack Obama and Vice Presidential candidate Joe Biden stumped for election in NM in 2008, we handled all the technical aspects of their campaign appearances in NM as we had for Kerry four years earlier.
In 2012, we once again provided equipment and personnel for President Barack Obama's bid for re-election and also met and provided equipment and personnel for Michelle Obama's appearance on behalf of her husband in Las Vegas, NM.
Zuleikha Dancing
Storydancer, Zuleikha, whom I have collaborated with for years, is co-creator of The Rumi Concert, with poet and translator of Rumi, Coleman Barks. They work with different world musicians. As Coleman reads the translations of the 13th-century mystic poet Rumi, Zuleikha joins in the interpretation of movement and story, the musicians accompany through their instrumental improvisations, and I interpret the group work in colored lighting design.

Zuleikha is a movement artist known for her weavings of story, rhythm, dance, and innovation. Growing up in a western classical music family playing piano and flute, Zuleikha's movement background spans the avant-garde, studying with Anna Halprin from childhood through the Ali Akbar College of Indian Classical dance and music. She studied music in Afghanistan with the great master, Mohammad Hashem Cheshti, lived and danced in Bali and practiced movement forms in Asia, dancing, and teaching in the temples of Japan. From the fusion of western avant-garde and eastern classical dance, she is constantly creating a contemporary rhythmic language, which embodies an expressive form of spontaneity and improvisation through movement.
The finale is always Zuleikha alone in a beautiful costume made of layers of graded colors of white silk, whirling in the reminiscence of the "whirling dervishes', and I paint her in all the colors of the rainbow, changing the colors and their sequence and direction. I use a minimum of five illumination sources. Four are front and back and both sides, while the fifth is straight down. With the advent of LED lighting, there now are lighting instruments which can produce any color of the visible spectrum, so it actually becomes five lighting instruments.
We did one of these concerts in St John the Devine Cathedral in NYC, and she danced on a raised white circular platform just forward of the alter. There is no music or poetry when she twirls, just her. It seems to the audience that she goes into an altered state, which she does and she simply whirls and whirls, changing direction as well. When the performance was over, quite a few of the audience wanted to know how we made her levitate. It was because of the raised white circular platform in front of the altar, as I mentioned before. It created an uplifting kind of optical illusion.
This facility is so large it has its own weather system independent of the weather outside the cathedral.
Zuleika is the Founder/Director of The Storydancer Project. The Storydancer Project (TSP) inspires positive change in the face of adversity through transformative movement and self-care practices that restore vitality and cultivate joy. TPS is an international non-profit organization based in New Mexico, dedicated to supporting cultural diversity and tolerance as the key to peace. Serving girls, women, children, and families facing challenging life circumstances.
Playing Jazz in Santa Fe
I continued paying with Jazz bands in Santa Fe, including working with the famous Jazz Bass player from California, Joe Mondragon, I became his drummer. He performed the bass line to the film "Jaws" and many other films as a bass player with Universal Pictures studio orchestra in California and received residuals from the movies he worked on, which guaranteed him an income for life.
After performing with Joe Mondragon I played drums and sang with small jazz groups in Santa Fe until my brain surgery put an immediate end to my performing in improv groups. Upon recovery, as previously stated, I switched over from improv groups to playing with the percussion section of the Santa Fe Concert Band, which is very satisfying as all of the players in the Concert Band are excellent. We perform show tunes, pop medley's, marches and light classical pieces and give free concerts for the public outside in the summer and in the spring we give our first concert in the Saint Francis auditorium of the New Mexico Art Museum and then in December we perform a free Christmas Concert at the Lensic Performing Arts Center in Santa Fe, NM.
Article Series
New Mexico