In the Navy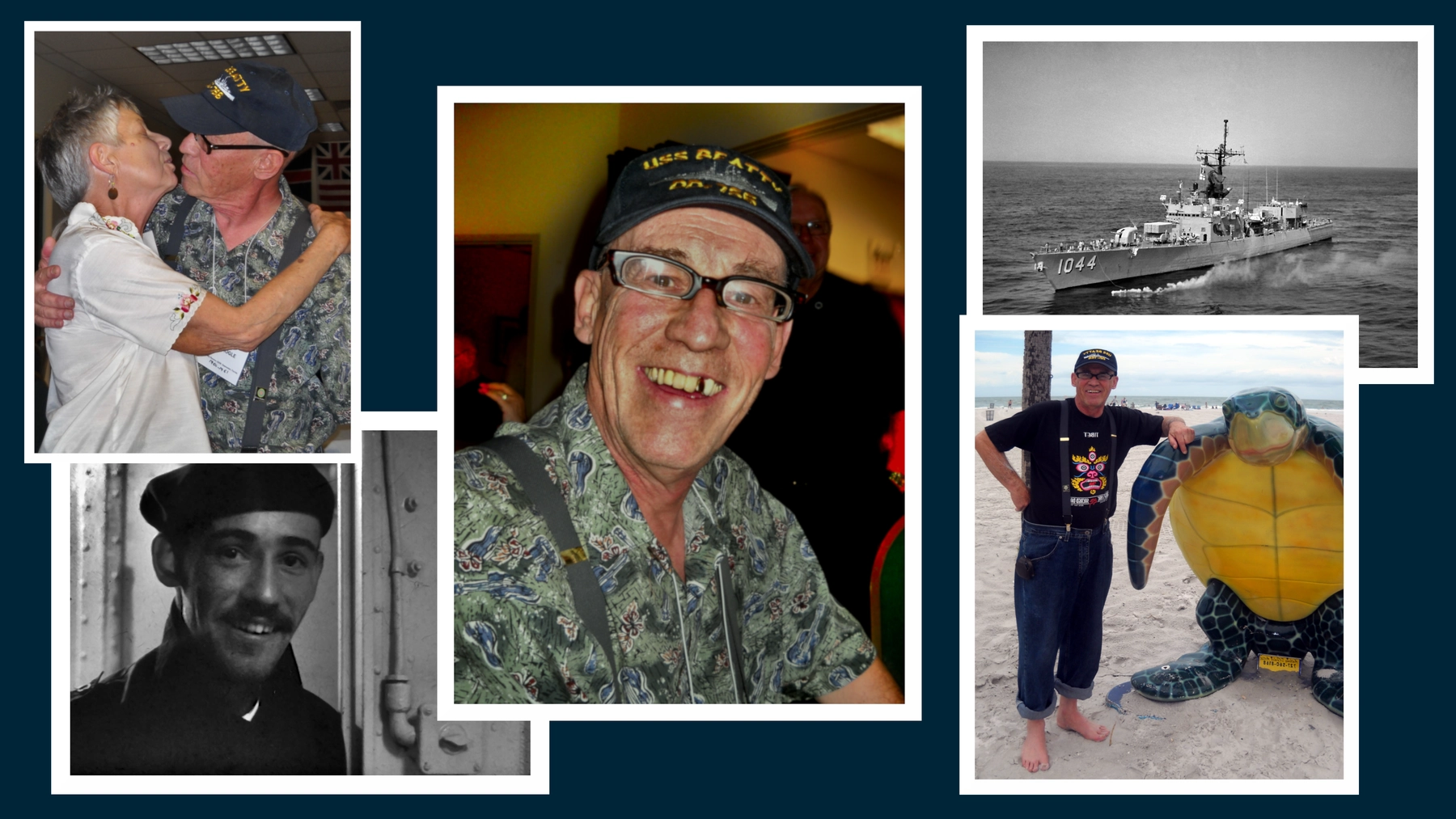 Overview
In Newport
I spent my first summer of college in Newport, RI where I attended 90 days of officer candidate training, then back to college the next summer. I spent two weeks on a U S Navy Destroyer, reserve ship out of Boston MA, this was my "midshipman's cruise". When I returned to college my Junior year I decided being a Naval Officer was not for me so I quit the ROTC program. The Navy said " this is not the boy scouts, you can't quit".
I received orders that summer to report to Brooklyn Navy Yard for assignment. A couple of days prior to my reporting for duty, I was laying on the beach in Rye New York, when my then girl friend said "let's get married." Being under aged for New York, we eloped to North Carolina and were married by a Justice of the Peace in a wheel chair who was having a card game at his home with three other Justices who became our witness'.
When I arrived in Newport I was assigned to a Navy transport ship a "Destroyer Tender" where I stayed until they could assign me to a ship. While processing me they discovered I was an artist and a musician. I was offered duty as a musician which was fine until I found out I would have to extend my enlistment by an additional year while I went to the Navy's music school. In one of the stupider things I did I said "no"! They also told me that the Admirals Staff located in Newport had an art department. They said they would like to see my portfolio.
On the USS Beatty, DD 756
When I heard this I called my wife and asked her to bring my art portfolio to Newport which she did, upon showing my portfolio to the Admirals staff they said I would be perfect for the art department, however but (the big but) the commander of the art department had to approve my transfer but he was on leave until the following week.
Two days later I found myself on a Destroyer, the USS Beatty, DD 756, leaving for a 9 month Mediterranean Sea cruise. I did join the Admiral's staff upon my return from the Mediterranean deployment.
While on Admiral's Staff as an Artist I became a "Journalist Third Class" as all staff had to be NCO's (Non Commissioned Officer) and the Journalist rating involved "layouts", the closest discipline to Artist. I passed the test with flying colors. All ratings in the Navy are determined by written tests and are calculated on a curve.
There is an "Artist" classification in the Navy but it is a "war time only" classification.
Designing "Liberty Ports" for the Ball
We designed and executed portable recruiting and public relations displays and booths. Jim Scancarelli and I designed and directed construction by Naval personnel a combination of two performance stages and specific decorations commemorating 60 years of US Naval Destroyers. The first Destroyer was commissioned in 1902.
This ball portrayed 3 of the liberty ports (San Francisco in 1902, New Orleans in the 20's and New York City 1962) for Destroyers during the 60 years. At the request of President John F. Kennedy and the Naval Chief of Staff the decorations traveled to all major naval installations on both the East and West coast including two months at the Seattle World's Fair. Stages and decorations fill a space 200 foot wide by 500 foot long.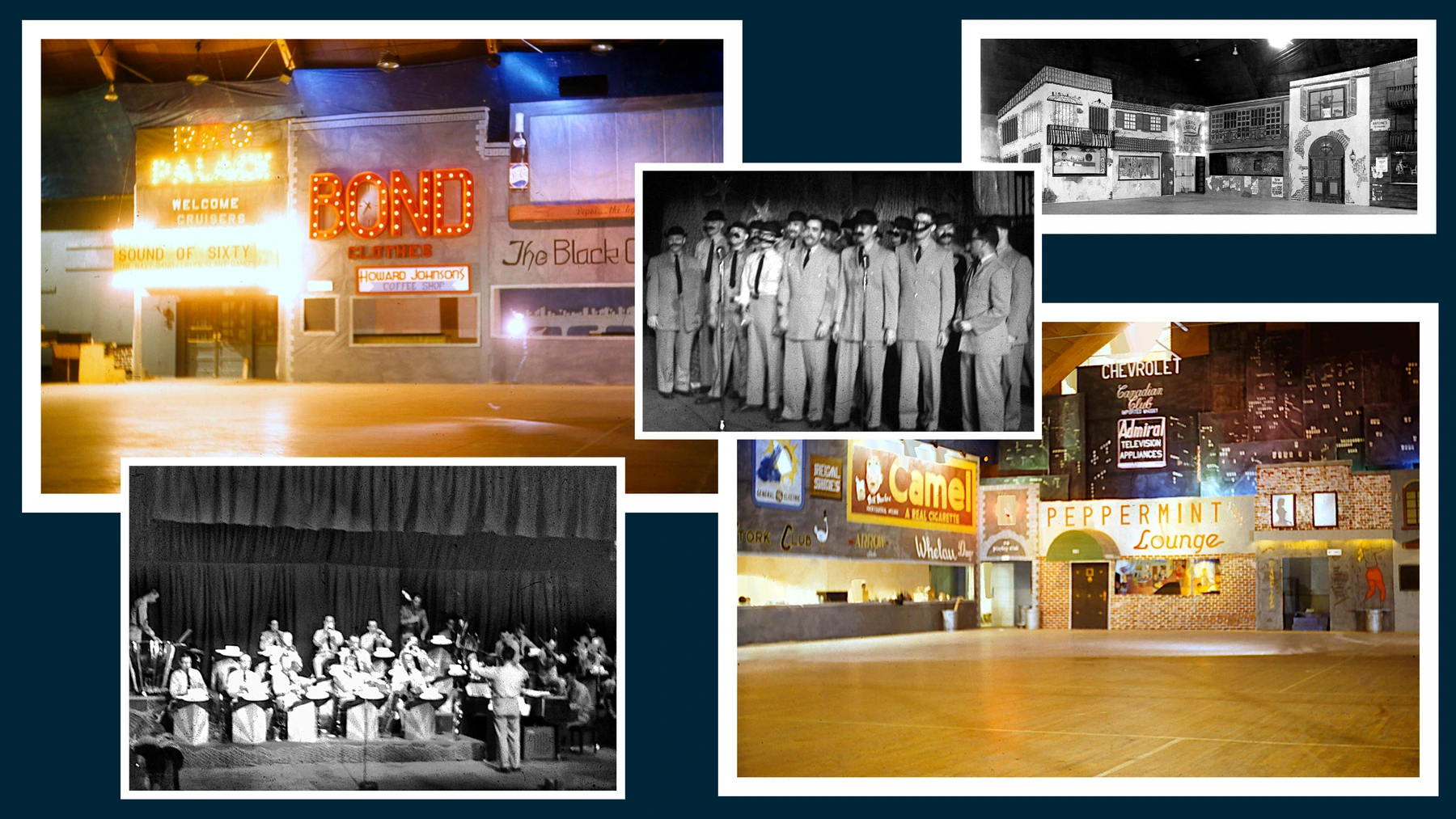 Designing of this this set took myself, Scancarelli, and the Art Department Staff a week. We then executed the design with the art staff and petty officers, carpenters, ship fitters, electricians, metal workers and lots of enlisted men.
Meeting Jim Scancarelli
While on Admiral Weekly's staff I met Jim Scancarelli, a good artist who pens the "Gasoline Alley" comic strip today, we have remained friends all these years. Jim lived in his grandfathers house in Charlotte, North Carolina. Jim and I with the rest of the art staff did layouts and illustrations for "Destroyer-man" a Navy monthly publication and designed and installed the decorations for the anniversary ball commemorating 60 years of Navy Destroyers in an old blimp hanger on the naval base in Newport, R.I.
I did many drawings and illustrations of Navy ships.
Article Series
In the Navy