East Coast Days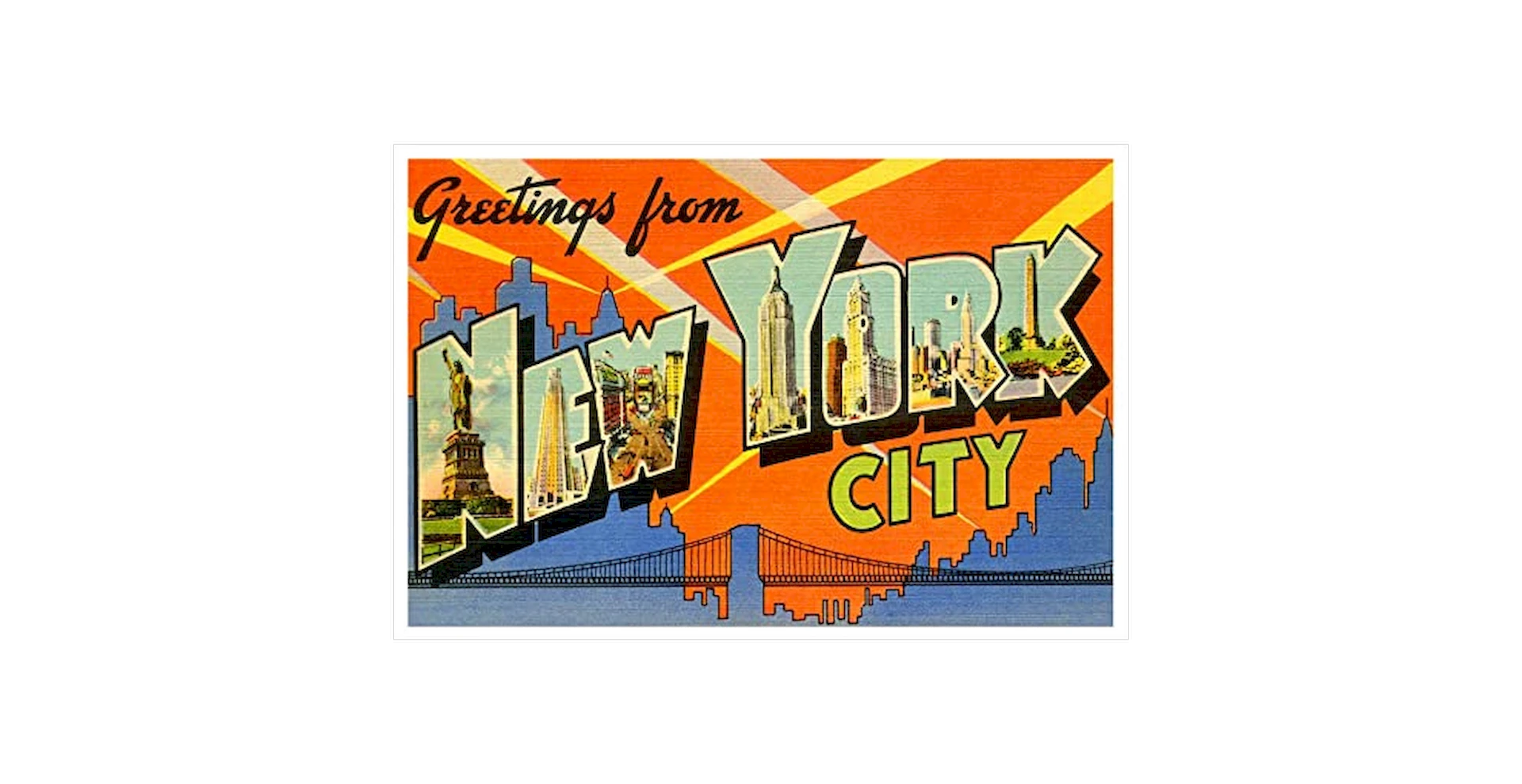 Overview
East Coast
When I was in high school, I was interested in music and art and participated in both. At New Paltz at New York State University, New Paltz, I received one scholarship to study art, and one to study acting. I chose art.
At New Paltz I majored in art and formed a musical quartet. After three years at New Paltz, I had to take a break while I served in the US Navy.
In The Navy
In the Navy, I formed a band on the ship I was on, a Destroyer. When that ship got back from its Mediterranean cruise, I was posted to the Art Department on ComDeslant Admirals staff (Admiral Weakly) in Newport, Rhode Island.
Read more about my Navy Days...
Back to New Paltz
After the Navy, I went back to school in New Paltz and graduated the following year. That was the year that GE introduced the flashing Christmas tree lights. I noticed the colored projected patterns they produced on the white wall behind the Christmas tree. These sharp-edged patterns were the result of the small filaments in these light bulbs, which became "point light source", they worked like a pinhole camera in reverse.
Experimentations with Light
I began experimenting with point source colored flashing lights projecting patterns on a screen. Years earlier, as a high school student, I had taken a field trip to NYC to the Metropolitan Museum of Art. Upon exiting the museum, we passed through the gift shop, and right at the exit was what looked like a television set but was playing amorphous colored patterns without repeating itself. I found out years later in studying Thomas Wilfred that it did indeed repeat, but after two or three days. I was mesmerized.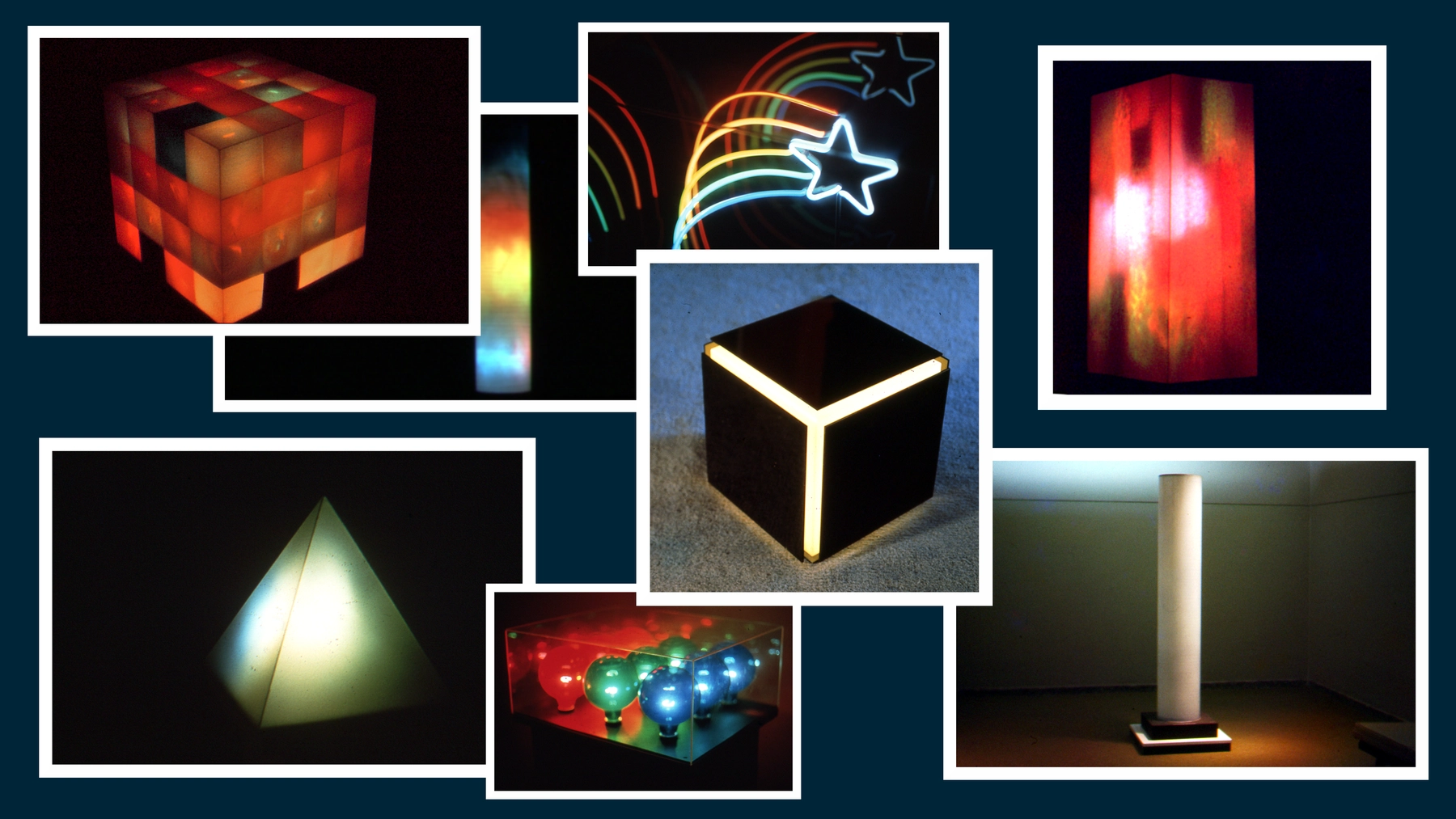 Today's computer screen-savers echo this. The piece was by an artist named Thomas Wilfred, who was also a lute player of some renown in Europe. He played for the crowned heads of Europe before immigrating to the United States. He made his living playing lute and constructing Kinetic light machines. He also performed live with Stravinsky in NYC in the 20's. He constructed a projection unit which projected colored lights and patterns on the screen at Radio City Music hall in NYC. His work changed my life.
Ever since then, I have been fascinated with flashing/blinking colored lights, and have designed and built kinetic art light sculptures.
1st Exhibition
The first time I exhibited my artwork outside of the College at New Paltz it was to the general public at Finch College Museum of Art Contemporary Study Wing. This show was a collaboration between myself and Adrian Guillery. Adrian passed away in 2018.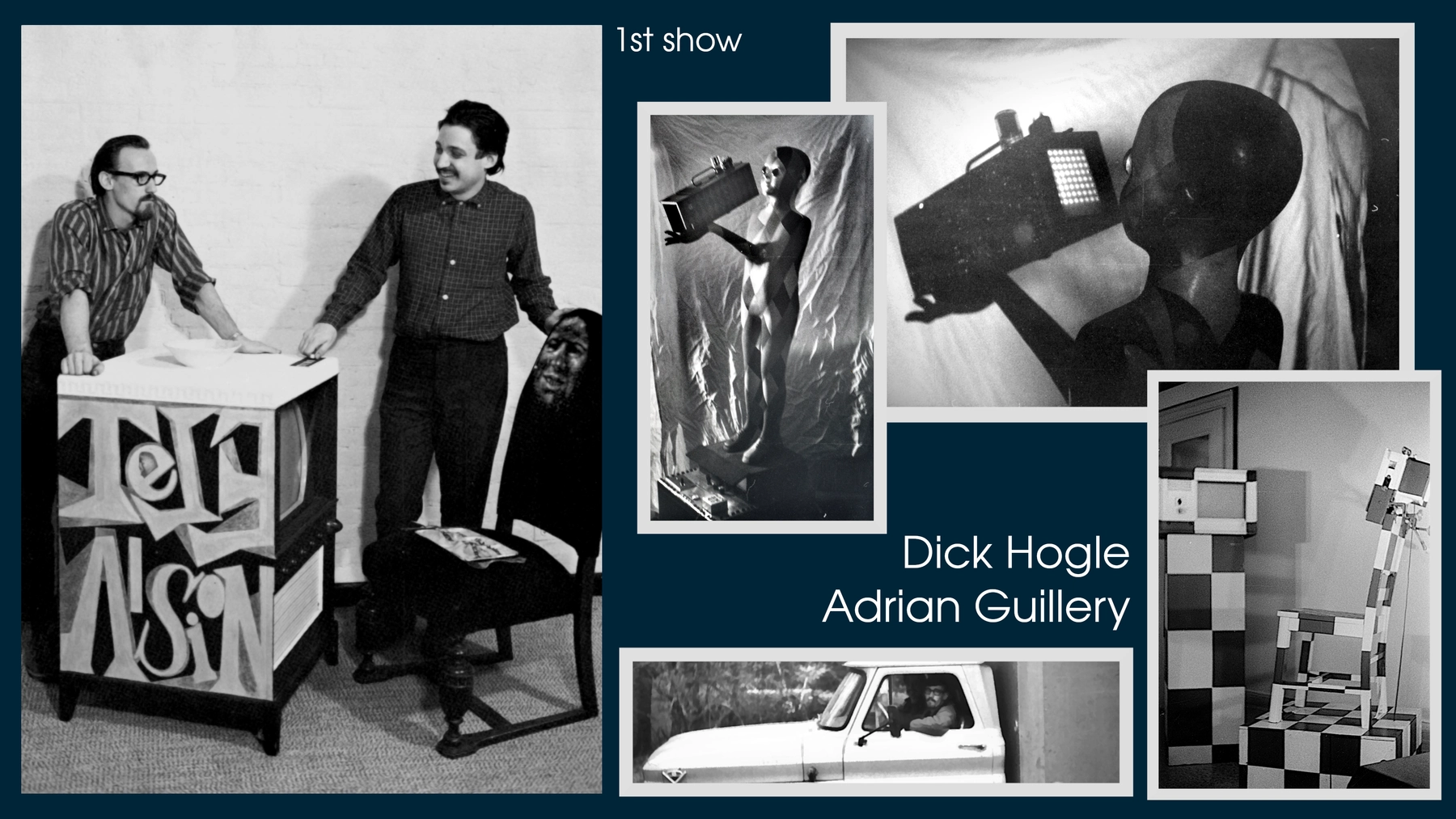 He and I were college roommates and played in the same band. When Adrian and I were setting up our show, the director for the museum, Elaine Varian, asked me if my father was Pliny Arnold Hogle. He was indeed. Elaine told me General Varian was her husband, when they were serving, at Fort Bragg. She said, "I used to babysit you in Fort Bragg, North Carolina, when you were 4 and 5 years old". It is truly a small world.
I was 24 years old when Adrian and I exhibited our work at Finch. Thomas Hoving, Director of New York's Metropolitan Museum of Art, having seen our work at a loft in New York where we were showcasing our art, arranged for a show at Finch College.
Working with slides.
During this time, I went to the Filmore East in NYC, I had gone to see Miles Davis and his new quartet, also on the bill was Neil Young. I saw the light show put on by Joshua White, and it changed my life a second time. I went home and began experimenting with overhead projectors, liquids, and 35mm slides.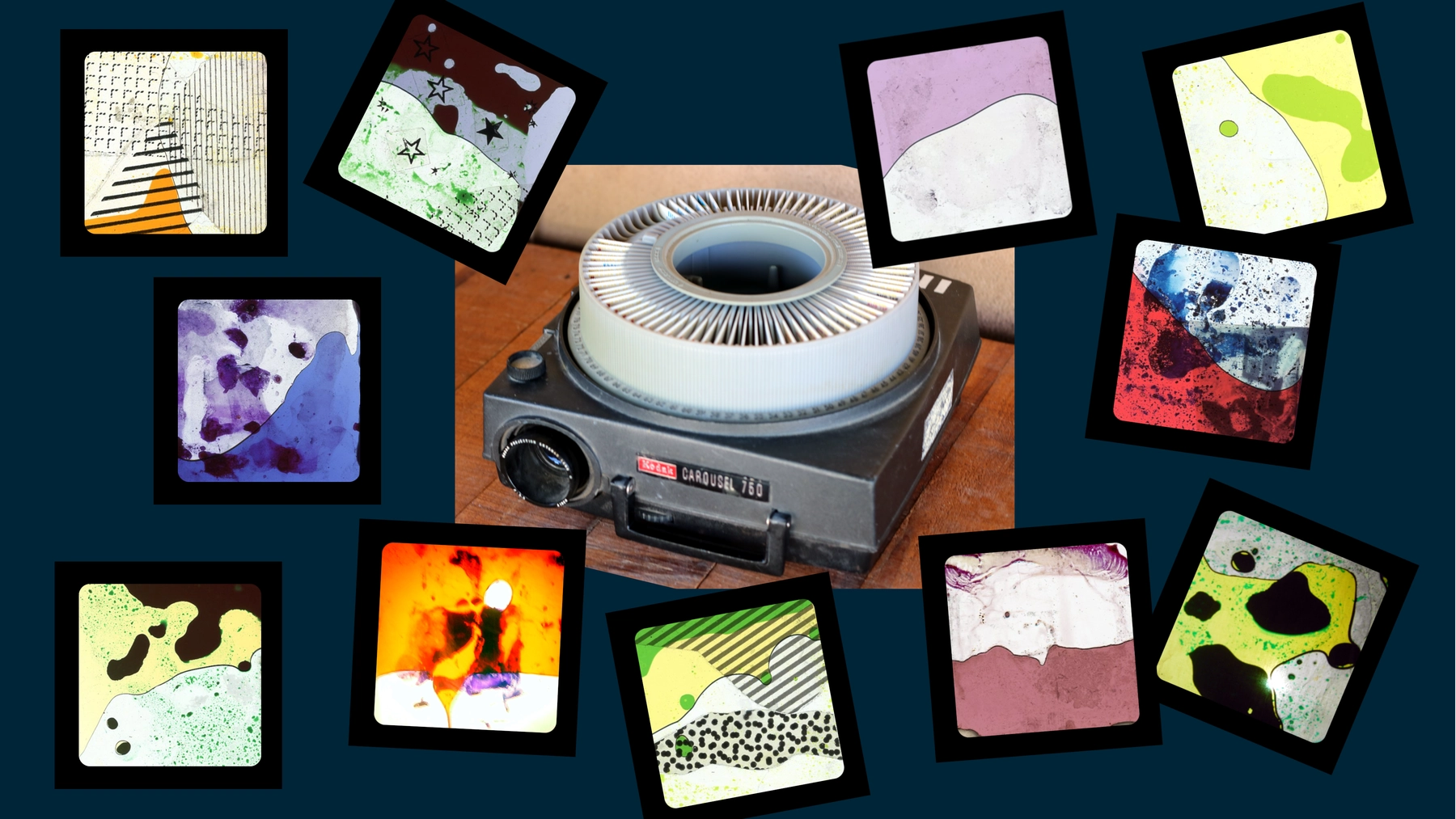 I started making my slides using transparent colored lacquers with hand-painted abstract graphic patterns, and press type moiré patterns.
Body Painting
I don't remember how or why I started painting live models, (probably because of Yves Klein painting canvases by painting his nude models blue and using them as the paintbrushes to paint his canvases). I painted nude models using a flexible "day glow" poster paint.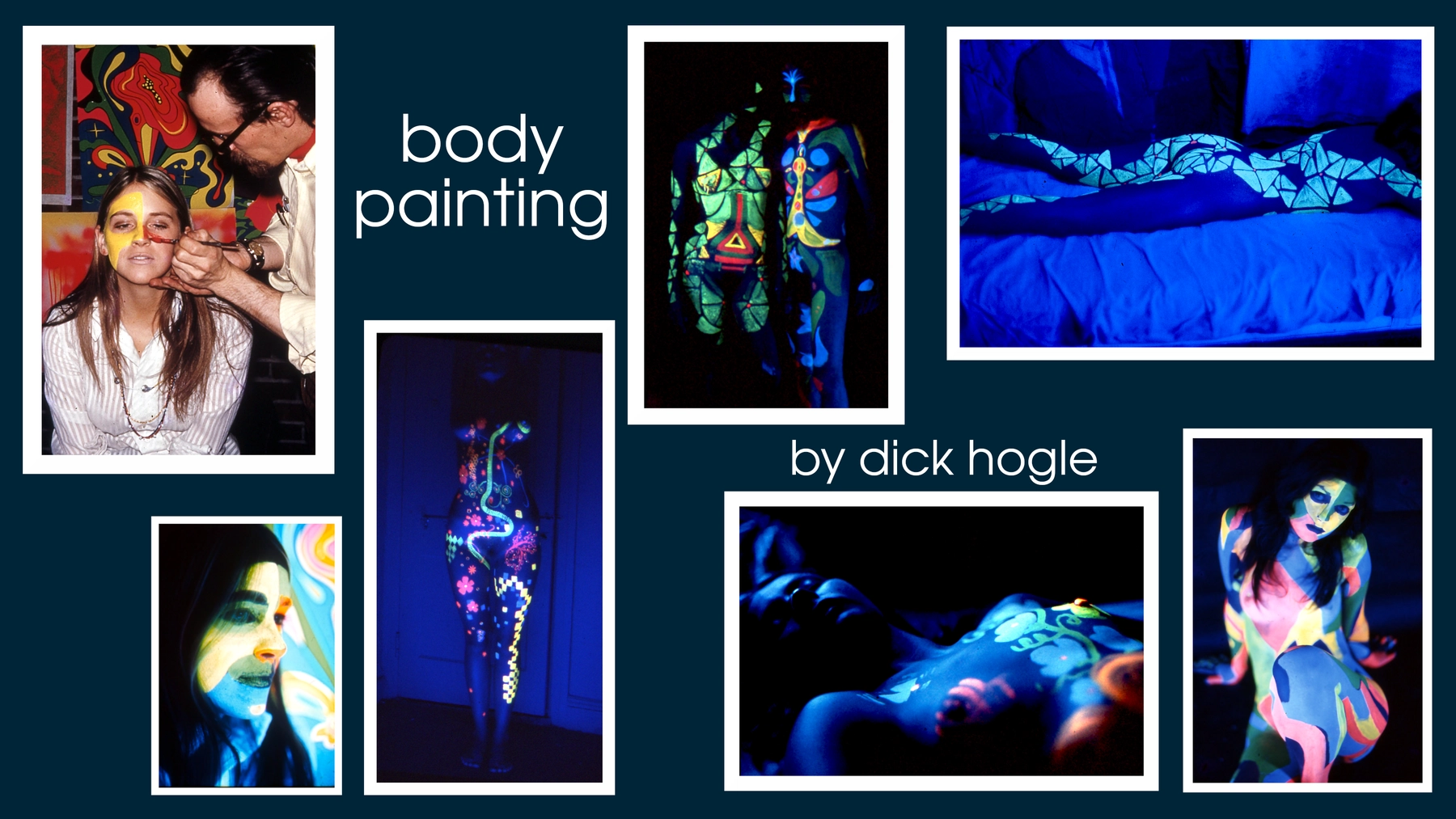 I developed flexibility in the paint using glycerin. When applied to a body, the paint wouldn't crack off when the models moved and posed. I lit the painted nudes with "black light" and then photographed the "glowing" bodies.
Liquid Light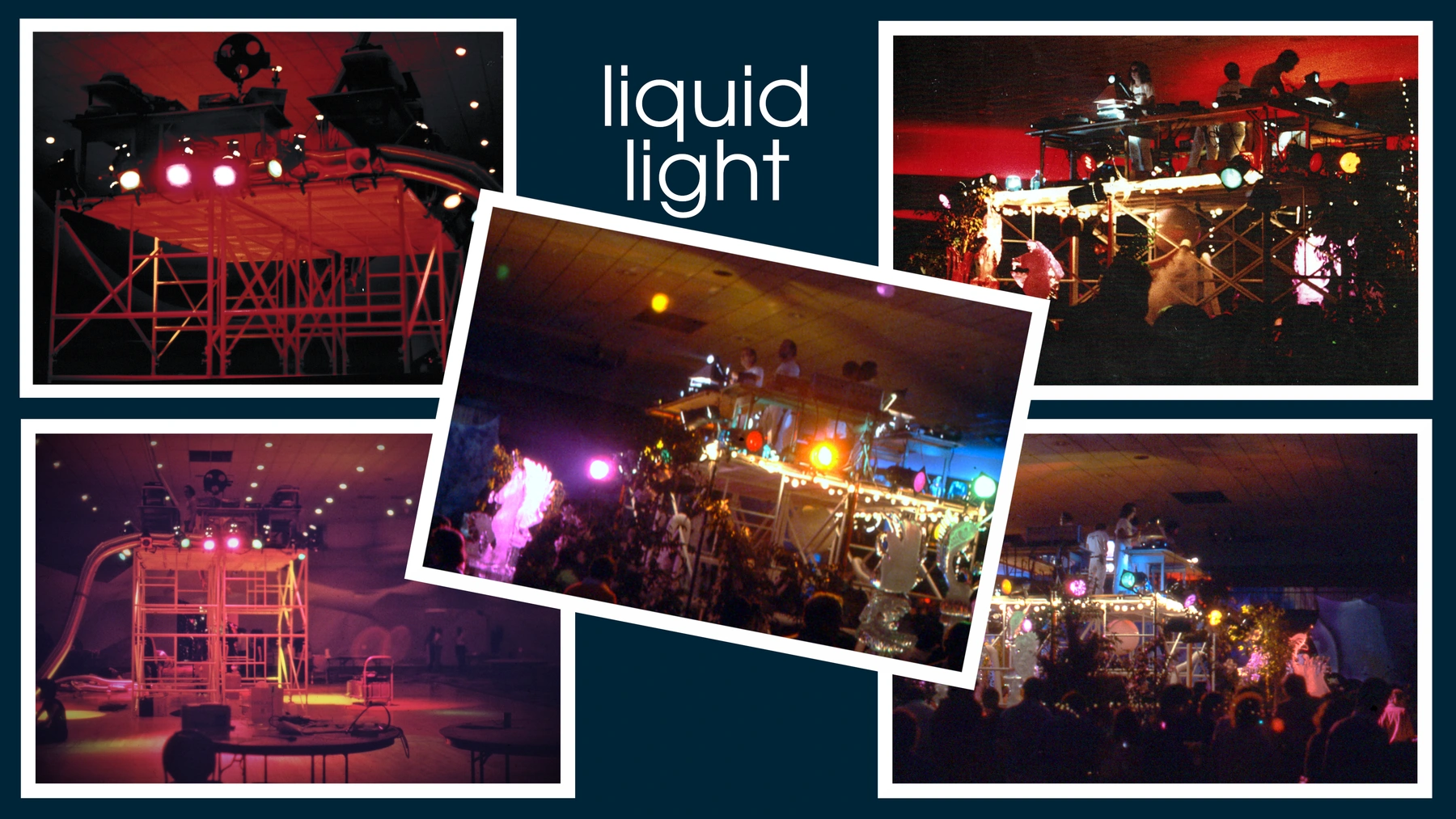 Today I have thousands of original slides. I developed a multimedia light show consisting of overhead projectors and 35 mm slide projectors with programmable dissolves.
While perfecting my "light show" technique, I presented "light shows" in my barn-studio in New Paltz. I didn't know at the time how Joshua White was manipulating the water, oils, and glycerin. Aniline dyes colored the oils; food coloring colored the water and glycerin. I could not find a clear bowl or dish that did not have Pyrex or something else printed on the bottom, so I made my own.
Since the projection area on an overhead projector is square, I made square trays to fit the projection area. I made clear Lucite trays with 2" raised sides with drilled holes in two sides opposite each other into which I inserted rigid tubing sections. I attached pliable tubing to the rigid tubing. At the end of the two pliable tubes, I connected an air mattress foot pump. From the foot pump, which I used to pump water, a pliable tube went into a gallon jug of water. This allowed me to add clear water to the tray when the existing liquids in the tray coalesced, and are evacuated through the tubes going into empty gallon jugs. I attached hemostat type clips to these tubes so they could be closed off until needed.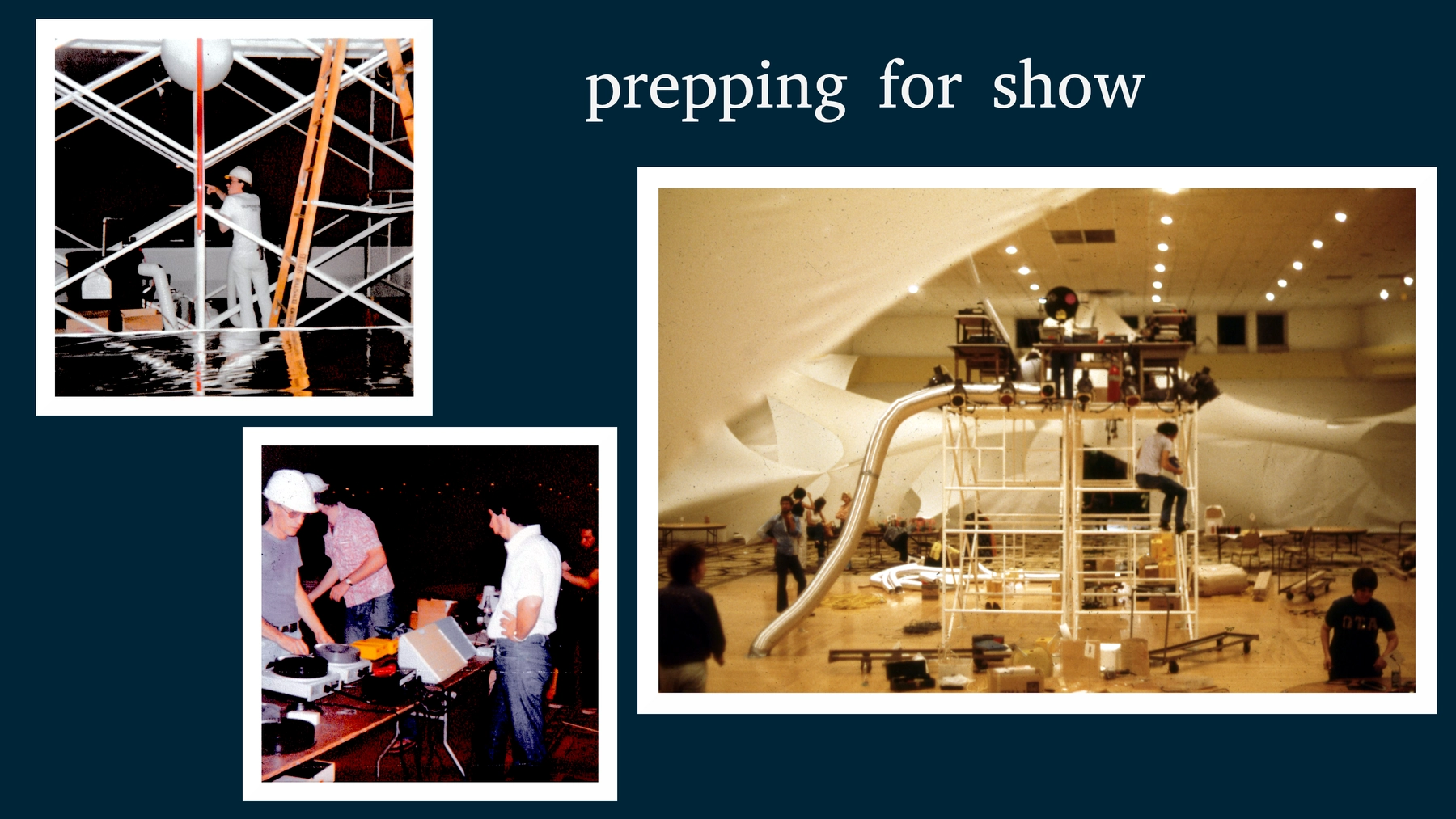 I had discovered that with plain trays (no tubes) that the image I was projecting got muddy before the Pink Floyd Album I was practicing to was over. Being able to clear the old liquid out and put in the new clear liquid worked well.
Years later, I found out that Joshua used "clock crystals," the curved clear glass face covers for large analog clocks, a smaller one nestled into a larger one with the oil and water between them. Joshua's clock crystals being circular; they projected a circular pattern on the screen. Not knowing how he acquired the circular projection, I made transparent film underlays for going between the trays and the projection surface. I adapted a standard school overhead projector to meet my needs.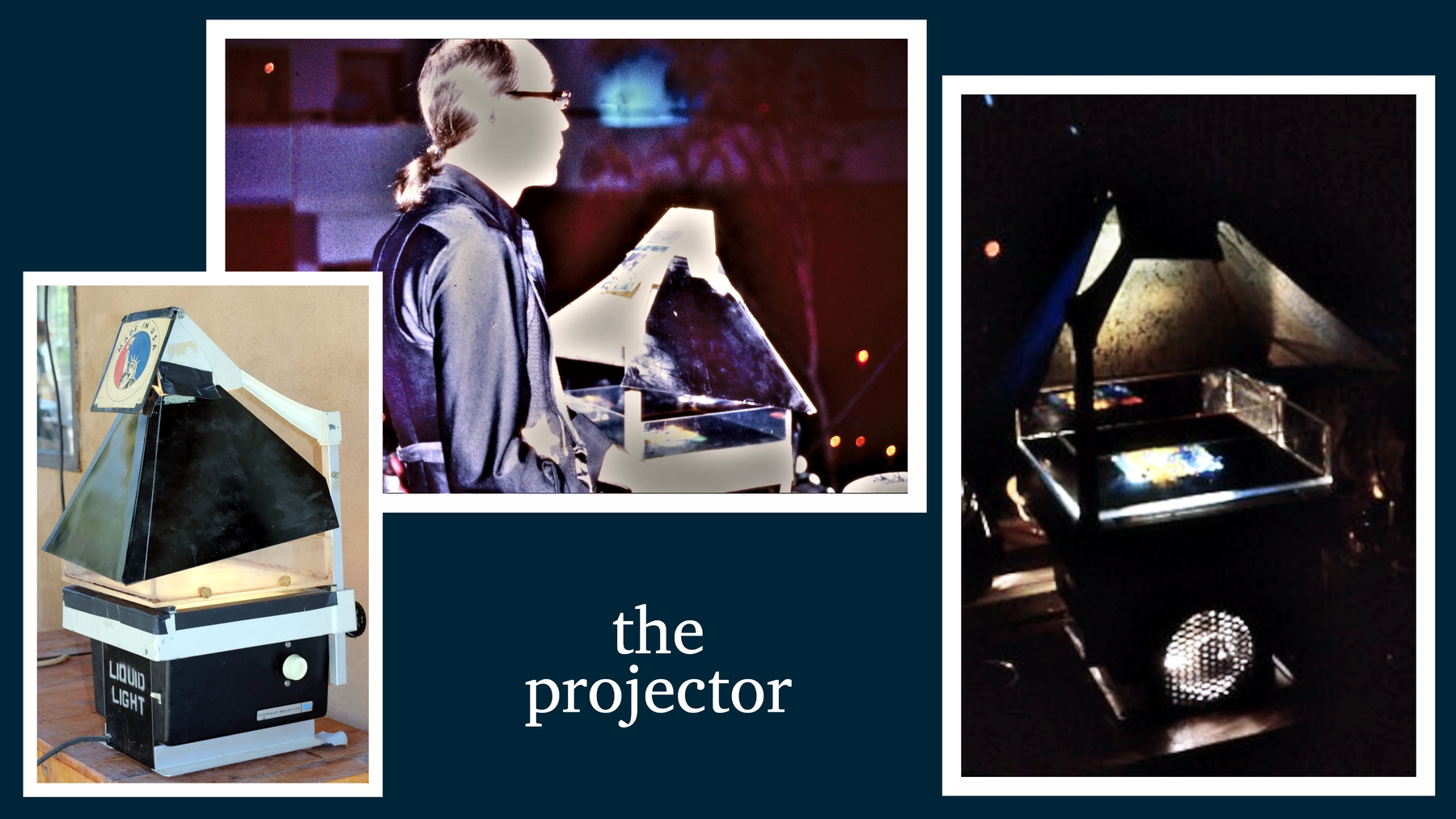 I glued 1/8" square clear plastic strips left and right on the overhead projector just outside the projection area. This allowed me to insert film and cut-outs ("gobos") between the projection surface and the liquid trays. I made up a series of different sized transparent black films with transparent circular openings, which I could slide between the trays and the projection surface, achieving circular shaped liquid shows. I also changed out the incandescent projection lamp with a more powerful quartz lamp. I moved the focus controls from the front to the back of the projector (school teachers stand in front of an overhead projector when they use one) I needed to stand behind it. I also added a rheostat on the side of the projector to raise and lower the light brightness and a flap in front of the lens for instant blackouts and restores.
By building a rigid four-sided (one side open) pyramid shape with the base the size of the projection area and the top ending with an opening the size of the projector lens housing. With the inside painted a reflective silver and the outside flat black as are all non-reflective backstage pieces of equipment. The reflective hood actually increased the image brightness while helping keep the area around the projector dark. The open side was at the back, allowing access to the Lucite trays allowing manipulation of the image being projected.
I was approached by the owners of the first "Discotech" in the United States in NYC, the "Cheetah," to construct a tabletop kinetic light piece for their disco.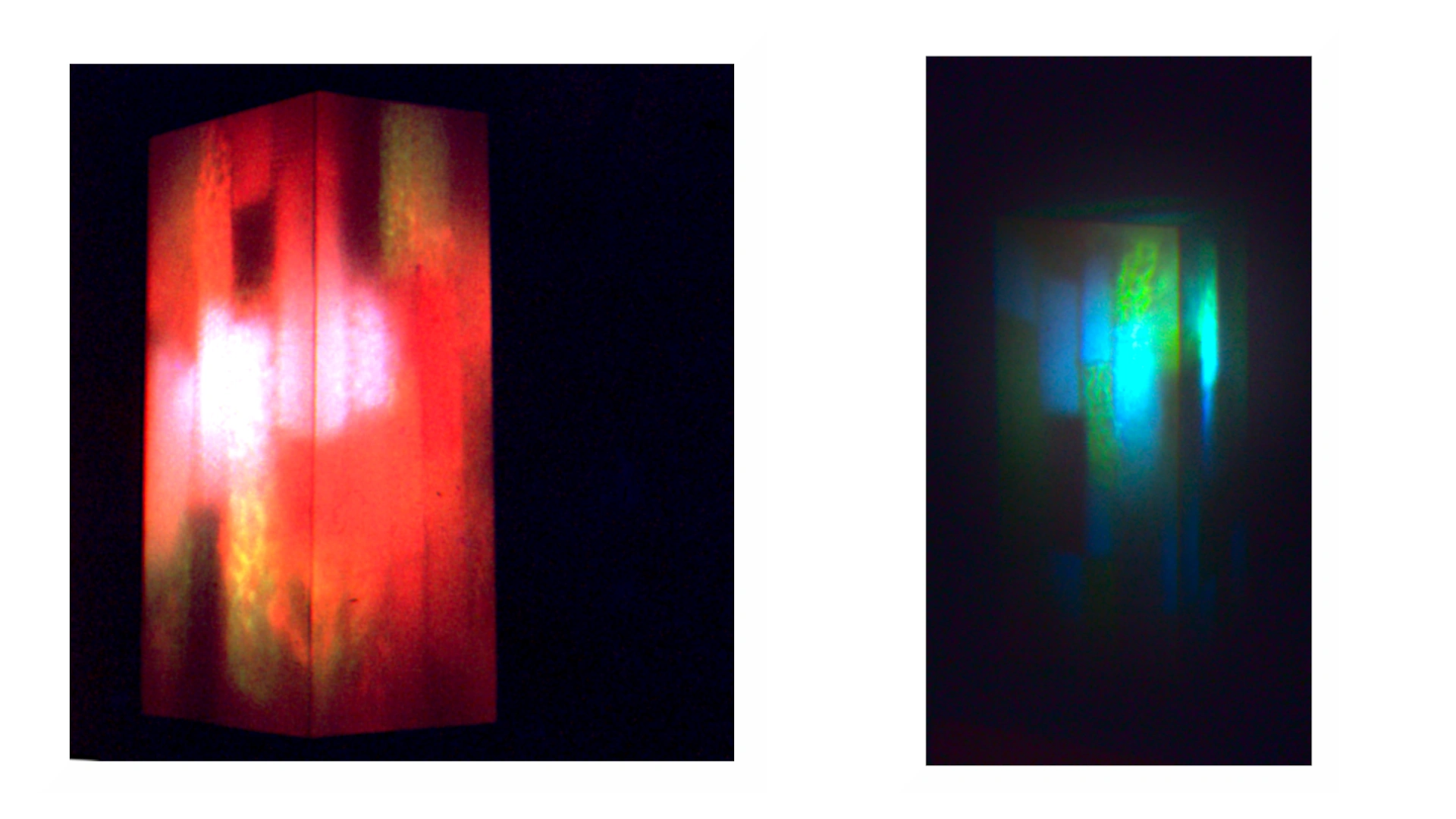 While I was in their club, They showed me their projection booth, and I noticed a European single slide, slide projector with a square plastic device with tiny tubes coming out of it. I was told it was to project liquids on the screen by pumping transparent colored liquid through it, but that it didn't work very well.
While developing my own liquid projectors techniques, I experimented with making liquid 35mm slides.
I came across slide glass, which was just a little smaller size than Kodak slide glass. Three pieces of slide glass sandwiched together will work in a Kodak Carousel Projector film gate and fit in an 80 count slide tray. I put a silicone strip on one side of a standard glass slide sandwiched with the smaller glass slides as a spacer, along with the third piece of a glass slide.
When the glass had silicone on three sides, I would remove the spacer glass and place a silicone bead on the fourth side. I would leave a very small entry hole, into which I injected the oil and water with a syringe and then filled the opening with silicone and mounted the liquid slide in a metal slide mount. This worked very well. The movement was achieved by inserting the slide into the projector slide tray upside down very quickly. The trapped air would rush upward in the slide causing the liquids to "flow" in the opposite direction.
Going to Miami
At my studio in New Paltz, during a light show presentation with live music, one of the viewers came forward and told me that he was involved in a theatrical commune comprised of some of the original cast members of "Hair." They were rehearsing in Miami, Florida. I received an offer to go to Miami and use my light show experience with this communal theater group called "Mushroom."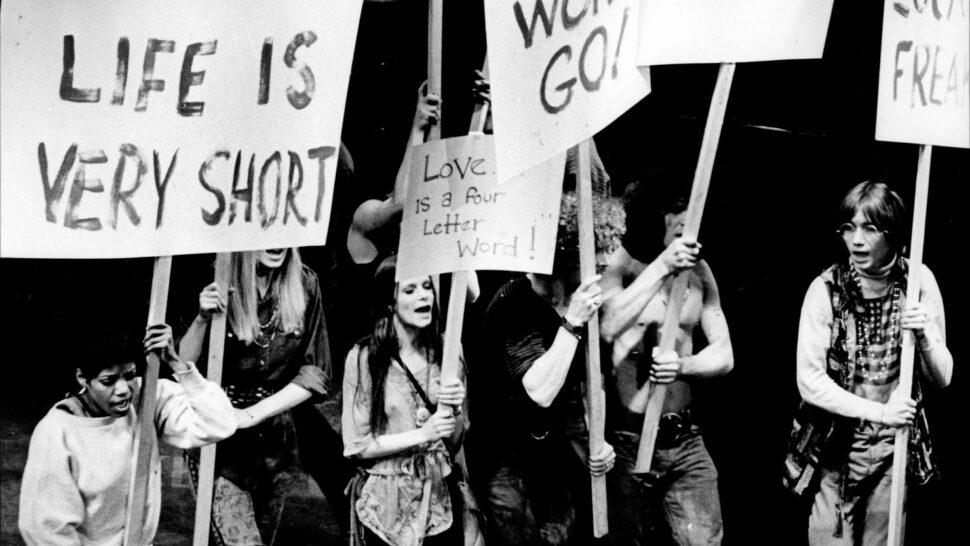 This theater piece was written by John Ammons, an original cast member of Hair on Broadway. This theater commune was comprised of some of the original cast members of "Hair," and they had a script and a cast and a band, and they were rehearsing in Miami, FL. The show was performed in the round with a live band inside a translucent vinyl inflatable dome 40' diameter, 30' high at the apex. Projections were done on the outside of the translucent dome. Five 16 mm film projectors with film by Judd and Judy Yalcut, my contribution was one overhead projector and twelve 35mm slide projectors with programable dissolves. The audience sat on pillows around three-quarters of the dome floor, the last quarter being reserved for the band and my light show. It was a theater in the round with the performers performing in the center area and into the audience.
Mushroom folded after three months of rehearsals and no bookings. I pursued using colored light to paint dancers and music performances along with pyrotechnics and colored flares, as an art form.
While in Miami
While in Miami, with 4' florescent tubes I sleeved three in red, three in green, and three in blue gels. (reword) These fluorescents were sound responsive; I put these fluorescents vertically in a Christmas Tree for an exhibit of Christmas Trees at the Lowe Art Museum.
I also lit Oscar de la Renta's spring fashions premier at the Lowe Art Museum "An Evening for The Senses" January 2th, 1974. Attending were Oscar de la Renta and Francoise de la Renta.
Fireworks
The Lowe Museum Director had told me that they were going to have a new building built by one of their benefactors. They said that the building's girder skeleton would be up by the time the gala came around, and they wanted the fashion models to pose on the girders while fireworks went off in the sky behind the models.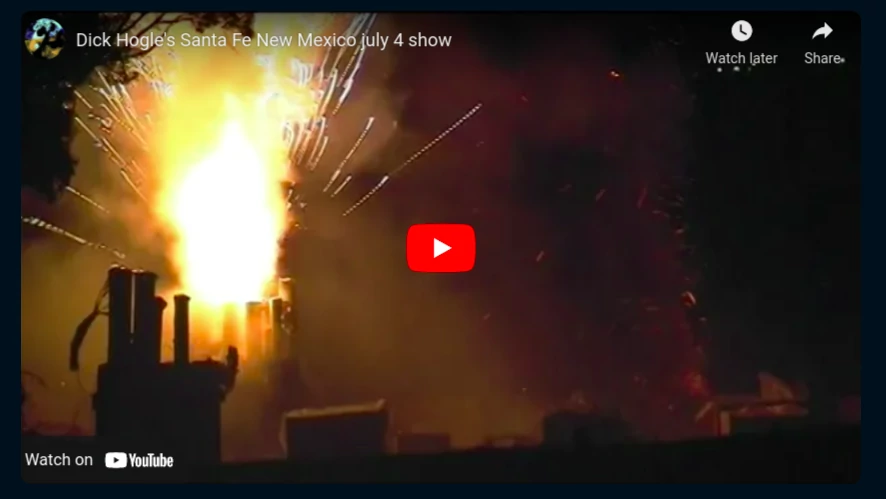 They asked me if I could light it and do the fireworks as well. I said, of course, even though I had never worked with fireworks before. This was on July 1st, on the next day I went to the Orange Bowl in Miami where the July 4th show would be and approached the people putting on the show. I explained why I was there to learn about fireworks.
The owner of the company, George Zambelli, was there and asked me what I was doing for the next couple of days, and I replied, "nothing." Mr. Zambelli ( Zambelli Fireworks company is the largest in the US ) then offered me work and instructions.
My first "shoot" was from a 10' by 40' barge off of Miami Beach. The barge is towed by a tug boat, on a very long 'hawser,' a braided hemp rope about 1" in diameter. The Lowe museum benefactor turned out to be Meyer Lansky of the Mafia, who was busted and deported, thereby killing the building project. That meant no fireworks this time, but now I was working for Zambelli Fireworks.
A Happening
Previous to this de la Renta Gala Event, I coordinated, staged, and lit a nonprofit event for the Lowe Art Museum in Miami in a circus tent. It was a "Happening," if you don't know what a happening is look it up or ask an "old hippie," utilizing theatrical lighting, rear screen projections, "go-go" dancers, costumed improv performers, streakers, (again if you don't know what a "streaker was, ask an "old hippie"), bubbles, smoke, and strobes.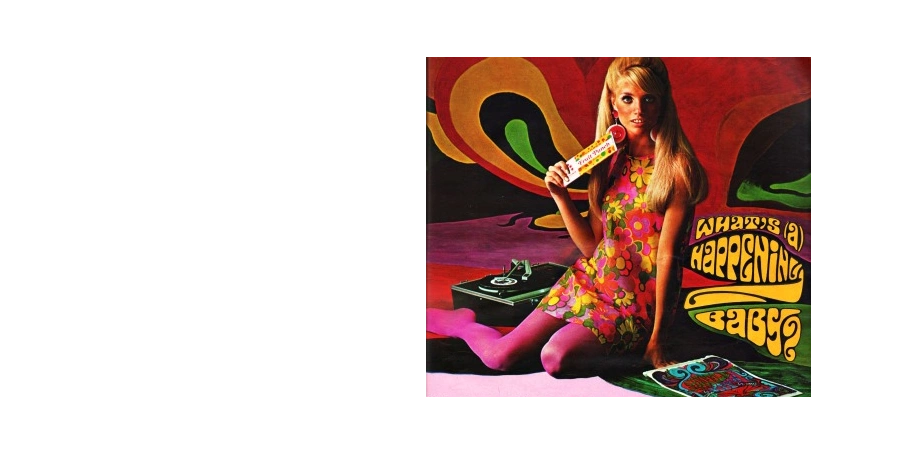 I had one improv group of four performers dressed as construction workers, all the Gala attendees were seated in their tuxedos and formal gowns at round tables seating ten guests. The construction workers would walk up to a table and without a word (none of the improv artist's spoke to the attendee's, only each other), enclosed the table in construction saw horses and then left, most attendee's never left their tables when this happened, after 5 or 10 minutes the "construction workers" would return, remove the barricades, and gravitate to another table. This was December 8th, 1973.
Michigan Concerts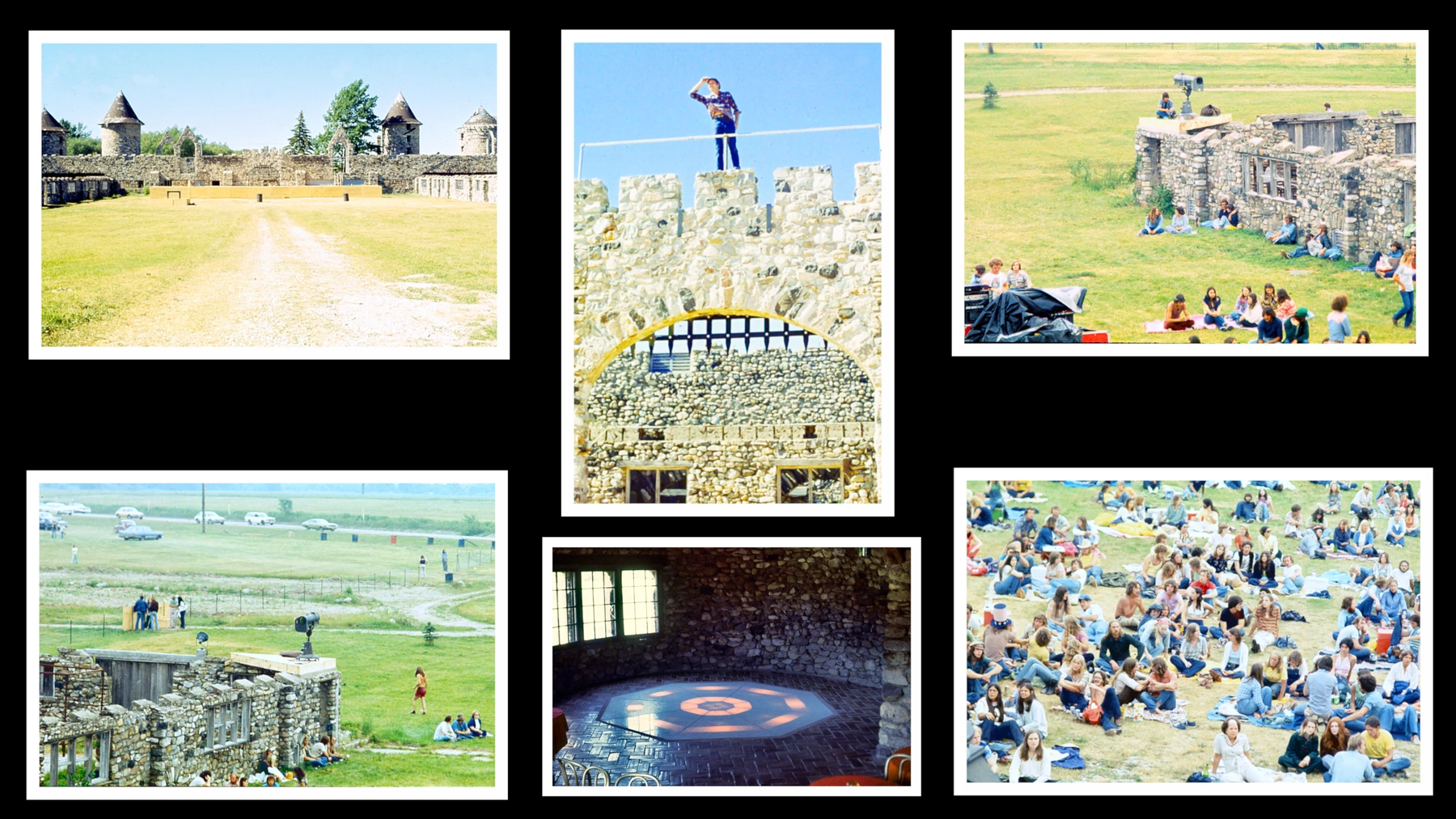 Back When in Miami
While I was living in Miami, I auditioned for and was entered into the University of Miami's School of Music. At the audition they placed the incoming freshman in one of four 18 piece jazz big bands, these bands are ranked with the first being the very best players and then the second and third and fourth. I was placed in the third band. The faculty member who auditioned me told me that had I played with brushes instead of sticks on "Satin Doll," he would have put me in the second band.
Out of thirty percussion students in the program, I was in the top ten. While at the university, I got to play with some exceptional players such as Bruce Hornsby, Jaco Pastorius, Ira Sullivan, and Gerry Mulligan, who was the guest artist one semester. After a while, he and I hung out together as I was closer to his age than the students. When Duke Ellington's band came to Miami, Gerry got comp tickets, and we went to hear the band, I got to the theater first and went to my seat and waited and waited for Gerry to show up. When the band started to play there was Gerry on baritone, it turned out that Dukes baritone saxophone player had been rushed to the hospital right before the show.
I was a lot older than the other students and technically not as good a player, and my reading was terrible, but I had years of experience they did not have, which gave me an edge. Having recorded at Criteria Studios with the University of Miami "Singing Hurricanes" I met Max Yager the owner. I received a call one day to come and record at Criteria Recording studio in Miami. When I arrived, I asked who was in the session; I was told only you. I was expecting other musicians; it turned out they needed a generic drum track of each of the five drums plus hi-hat and one ride cymbal. The tracks were for the BG's for practicing new songs prior to recording with a band, kind of strange, but it paid well. When I left the University, I could read drum music and had polished my technique.
I wound up playing in "show bands" on Cruise Ships and going on the road with the Jimmy Durante Band, which was the Palmer House Orchestra out of Chicago.
1st Time on the Road
The first time I went out on the road was when I was living in New Paltz, I received a call from Villa Lippani's owner in New Paltz asking me if I could fill in and take the place of the drummer performing with the traveling group that was appearing there. It turns out; the group was "The Goofers" from Las Vegas, who had appeared on the Ed Sullivan Show. The guitar player held his guitar upside-down behind his head and played the flight of the bumblebee really fast, the horn player played brass and reeds and played them hanging upside down and swinging from a trapeze.
The drummer had bought a used white Cadillac convertible and was not making the payments. The car dealer he had purchased the car from was "connected" (with the "Mafia"), and an enforcer showed up one night at Villa Lippani and broke the fingers on both hands of the drummer. I wound up filling in for him (I lived about a block away at the time) and continuing on with the rest of their tour, everyone in the band had to do something musical but different from just playing.
I mounted 8" blacklight flourescent tubes on my cymbal stands, and when it was my turn, I played an extended solo to "Caravan" with the stage lights dimmed or off and with day-glow drum sticks. My closest friend John Vett went on the road with me also in that group playing Bass. John was an excellent Jazz Bass Player who worked in show bands in the Catskills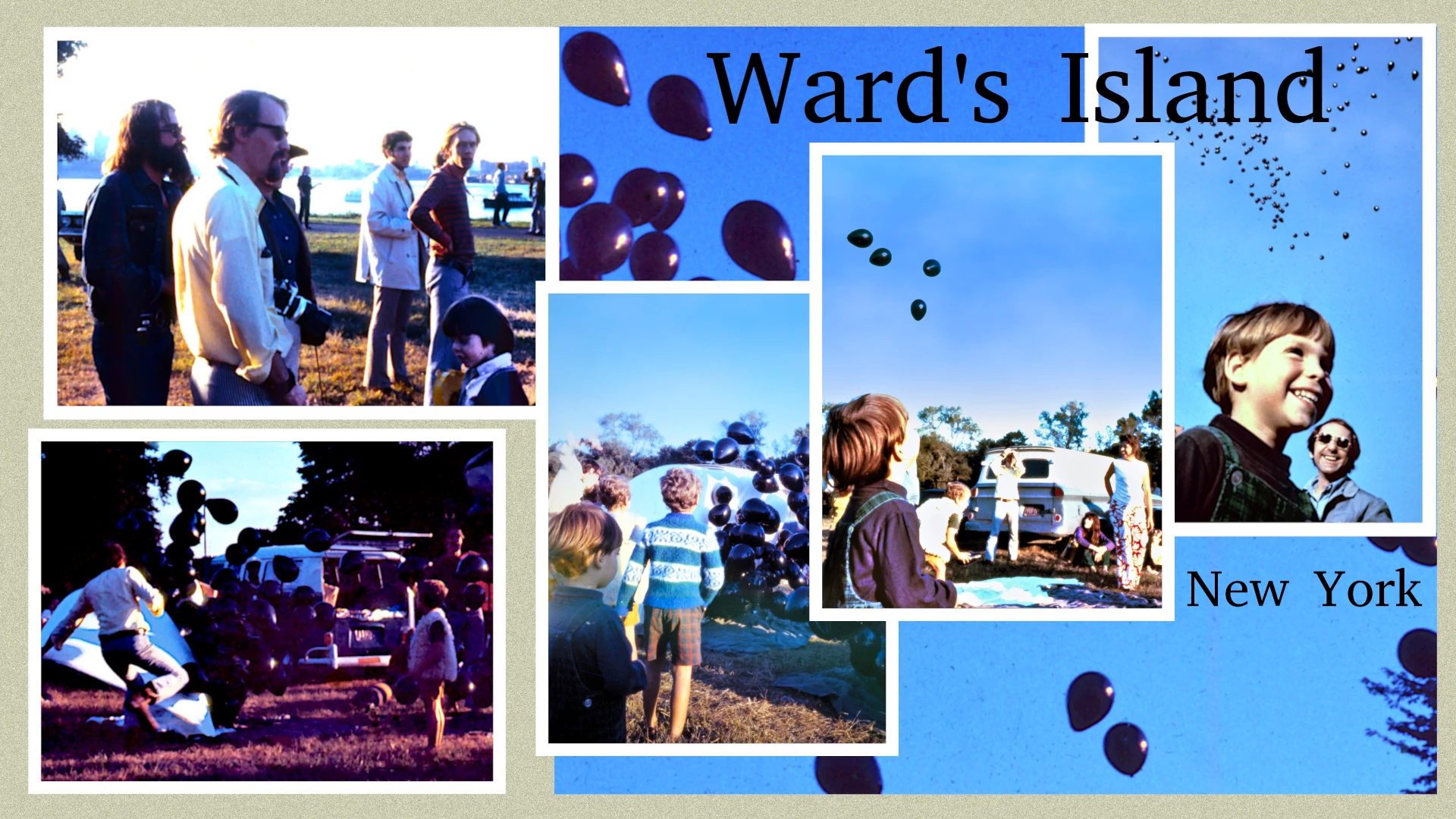 Article Series
East Coast Days